A Message from the Chairman: Leading Energy Transformation
The energy landscape during the recent past was influenced profoundly by Covid and global warming concerns. A sea change in Oil and Gas is emerging with emphasis on capital efficiency, digital transformation, and energy transition. Where does QRI stand on these consequential matters? What do we bring to the table? Why QRI?

Today SpeedWise®, QRI's proprietary software suite, is the industry's most powerful AI-based advanced analytics platform. It is an engine for assuring capital efficiency. An engine for drilling best wells and achieving maximum economic recoveries while leading with Net Zero thinking and environmentally friendly actions.

Our global collaborations with Amazon Web Services (AWS), Emerson, Halliburton, and Weatherford are all driven by SpeedWise Galaxy's unique proficiency in digital transformation. We bring practical, reliable, and fast solutions to Oil and Gas.

What's more, going forward we will continually introduce SpeedWise features that accentuate ESG and environmentally impactful analytics. New collaborations with Omnis Global Technologies (OGT) and Infinity Water Solutions (IWS), two emerging technology enterprises in hydrogen production from fossil fuels and structured water management respectively, demonstrate our commitment to lead the industry in energy transformation.

Welcome to greener, more efficient BTUs and barrels of energy.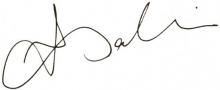 Dr. Nansen G. Saleri
Chairman & CEO