Chairman's Message : Greener, AI-Powered BTUs
Looking ahead, 2020 might be remembered as the year of disruptive events – COVID-19, oil price meltdown, social unrest, and market volatility. For energy markets, oil and gas in particular, the message is clear, we are in a new ecosystem where uncertainty rules. This begs the question – Why QRI, why now?

Today SpeedWise®, QRI's proprietary software suite, is the industry's most powerful AI-based advanced analytics platform. It is an engine for assuring capital efficiency. An engine for drilling best wells and achieving maximum economic recoveries.

In April we announced the first step toward a global collaboration with Emerson to introduce next-generation applications for AI-based analytics and decision-making tools. Together, I believe we will bring practical, reliable, fast and bottom-line oriented solutions to the oil and gas industry.

SpeedWise may not appeal to those who are content, accepting the often-heard "reservoirs are complex" line, an explanation for poor results. Or for that matter, continuing legacy solutions that take many months to produce unreliable field development plans.

Some see 2020 as a year of maximum stress; I personally view it as a year for the industry to embrace AI and advanced analytics as a pathway to a better future.

We are here to help you deliver greener, more efficient BTUs and barrels of energy.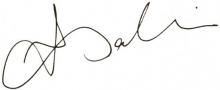 Dr. Nansen G. Saleri
CEO & Chairman