QRI's 11th anniversary marks an important milestone, giving us pause to reflect and even more so to imagine what is ahead for the coming decade. It is the age of Extreme Efficiency, Clean BTU's, and AI. And I can confidently say QRI is setting trends in all three areas.
Four questions come to mind:
What have we accomplished to date?
What is our mission going forward?
What makes us different?
What about AI? The latest buzz word?
What have we accomplished to date?
QRI's No. 1 principle is to create the maximum value for our clients. The estimated value generated to date for our clients has been in excess of $75 billion. The prevailing part of this value stems from savings in CAPEX/OPEX, reserves additions, and most importantly, helping our clients achieve higher production levels relative to their expectations. We are enabling our clients to execute massive M&A deals successfully and much faster due to the power of our Advanced Analytics.
What is Our Mission Going Forward?
As imbedded in our name, QRI strives to be the industry's most impactful organization in creating value in the upstream oil and gas sector: increasing reserves, capital efficiency, and production. The energy markets have already entered an age of unitization and extreme efficiency. By unitization, I mean the age of clean, environmentally palatable, and inexpensive BTUs. Extreme efficiency is the new norm for entities in the new energy medium. QRI is determined to be the extreme efficiency vehicle of choice in CAPEX and OPEX in the coming decade. We will do this by focusing on reservoir management and our relentless drive for automation, leveraging AI and Advanced Analytics.
What Makes Us Different?
The Quantum Difference. I will skip the "we try harder" line of many executives and instead point to our nine values. QRI's first value is to create the maximum value for our clients. Just recently we estimated that the CAPEX/OPEX savings achieved for one of our clients – a Middle East National Oil Company – totaled 470 million USD through dramatic improvements in waterflood efficiencies – an area of QRI's unmatched excellence and expertise. We are the industry's best in managing waterfloods and we have the track record and unmatched technologies to prove it.
What about AI? The latest buzz word?
Well before big data and automation became pop culture words in the energy industry, QRI initiated efforts into advanced analytics, data mining and deep learning. As a result, today we have the upstream industry's most advanced algorithms and the most intelligent automation to realize CAPEX/OPEX efficiencies in the subsurface, beyond what was imaginable only a few years ago. The world is changing. The energy markets are racing into higher altitudes of efficiency. I am proud to say, QRI is re-defining boundaries of extreme efficiency in every aspect of our business.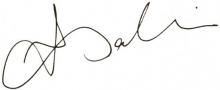 Dr. Nansen G. Saleri
CEO & Chairman