Earth Day with a Bold, New Standard: Delivering Energy with Earth-Nurturing Capacity
We all love Mother Earth! But what can we say on April 22nd that will go beyond expressions of wishful ESG platitudes?

At QRI, we are in the business of helping companies deliver greener, more efficient BTUs. Three attributes, in our view, define "excellence" in supplying energy to global markets:
Abundance
Affordability
Earth-Nurturing Capacity (ENC)
Obviously, the first two offer socio-economically attractive incentives to consumers everywhere. If we are striving for true long-term energy sustainability, all types of energy, including renewables, must pass the test of abundance and affordability (absent governmental subsidies).
How do we define number three, "ENC," the third jewel of the crown? ENC points to a standard that not only embraces but goes beyond "Net-Zero" and minimizing environmental footprint commitments. The goal for energy production is to create added "Earth-Nurturing" benefits while working towards reaching Net-Zero GHG emissions. In an ideal scenario on a level playing field, all sources of energy - whether they are derived from fossil fuels, solar/wind, or nuclear power, should be evaluated based on ENC merits.
QRI, in strategic partnerships with
Omnis Fuel Technologies
(OFT) and
Infinity Water Solutions
(Infinity), is committed to energy supplies with tangible ENC attributes:
QRI's cloud-native, AI-based SpeedWise® Galaxy platform acts as an enabler for Net-Zero and ENC.
OFT's ultrahigh temperature pyrolysis technologies produce Natural Topsoil Material, rich in agriculturally beneficial nutrients derived from coal, coal waste, oil, or natural gas. The process delivers high-quality hydrogen in a net Net-Zero environment for existing or future power plants.
Infinity treats wastewater from oil and gas operations for potential reuse in agriculture and/or industrial applications including fraccing. In essence, a waste product from oil and gas operations gets repurposed and recycled with potential ENC qualities.
My parting thoughts on Earth Day – while Net-Zero is indeed a commendable goal, we can and should aim for a bold, new vision. Abundance, affordability, and ENC point the way for future Earth Days.
Happy Earth Day 2023!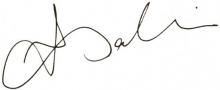 Dr. Nansen G. Saleri
Chairman & CEO