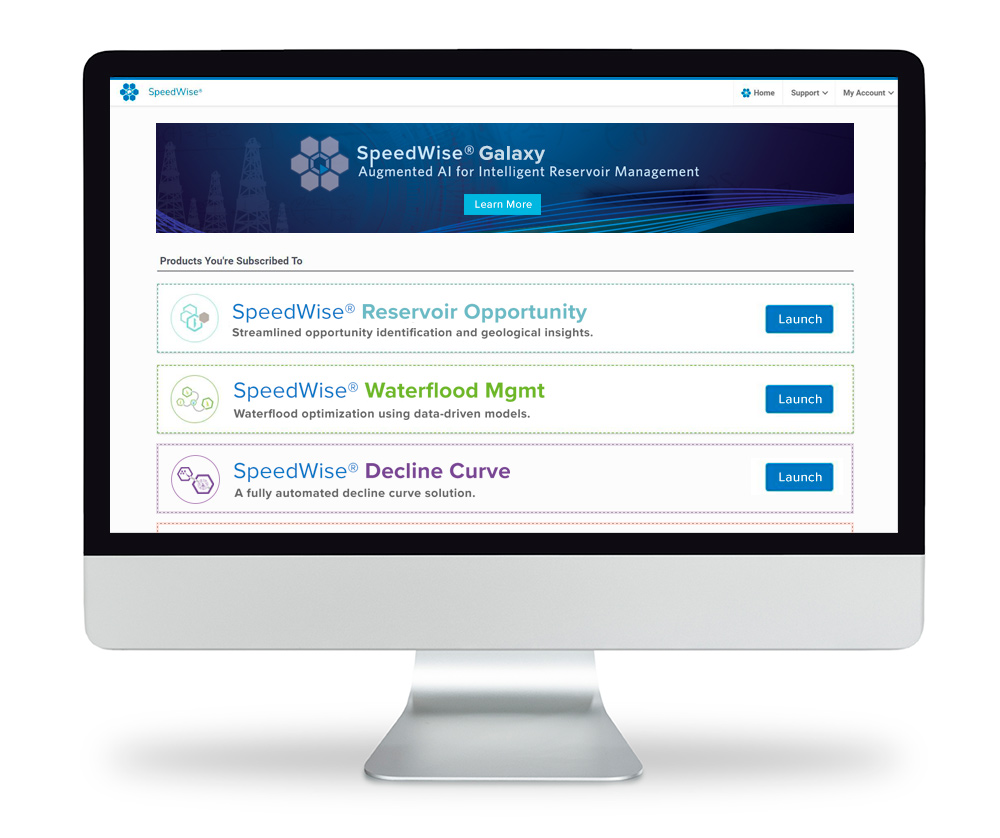 Use Augmented AI to revolutionize the way your asset team works.
Artificial intelligence is disrupting the oil & gas industry, but not all AI is created equal. SpeedWise® Galaxy is a multi-disciplinary reservoir management platform with a suite of cloud-native1 AI-powered applications designed to assist O&G operators, companies and asset teams to implement a practical digitalization plan, specifically in the area of reservoir management and field development planning. SpeedWise® Galaxy applications have been used on fields around the world to maximize an asset's value (i.e., increase production, reserves, and capital efficiency) while delivering significantly faster, more accurate results.
While there is no 1-to-1 comparison to SpeedWise® in the market, SpeedWise® Galaxy offers a top-down, end-to-end reservoir management approach (called RCAA®2). The solution applies hybrid modeling (combining physics-based and data-driven approaches) and aims for optimum complexity by addressing both bias and variance in the system. Also, the synergy derived from merging domain experts and AI in the process (i.e., "Augmented AI") ensures that the results are actionable (i.e., they are aligned with overall reservoir management strategy and satisfy pertinent engineering and economic constraints).
Scroll Down to Learn More.
QRI is an AWS Energy Competency Partner. SpeedWise Reservoir Opportunity, SpeedWise Waterflood Management and SpeedWise ML can be purchased through the AWS Marketplace.
1. As of September 2020, SRO3, SDC, and SWM3 are available products in the cloud. Additional modules will be available on the platform soon.
2. Patent U.S. Patent No. 7,963,327, Russian Patent No. 2,571,542, Chinese Patent No. ZL 201180002391.5. 3. US Patent No. 10,458,207.
---
SpeedWise® Galaxy Application Suite:
---

Streamlined opportunity identification and geological insights.
Identify various remaining, feasible, and actionable field development opportunities. These opportunities include recompletion behind-pipe, reactivation, vertical new drill locations, sidetrack opportunities, and optimal deviated/horizontal targets.SpeedWise® Reservoir Opportunity (SRO) was featured as a finalist in the World Oil Awards 2020 for Best Digital Transformation. Available as a SaaS solution.
Learn More

AI-Driven Production Forecasting & Decision-Making for Unconventionals
Use AI-based methodologies to capture complex, multi-faceted data for robust and flexible production forecasting, leading to greater identification of opportunities for Unconventional assets, and faster, more effective decision-making. Available as a SaaS solution.
LEARN MORE
Waterflood optimization using data-driven models.
Use data-driven models to help ensure cost-effective waterflood optimization. The application's reduced-physics data-driven reservoir model is the most advanced technology of its kind in the industry. Available as a SaaS solution.
LEARN MORE

Machine Learning for Everyone.
SpeedWise® Machine Learning (SML) allows anyone in any size oil and gas company to conduct cutting-edge, automated machine learning practices and predictive analysis. Available as a SaaS solution.
Learn More

A fully automated decline curve solution.
SpeedWise® Decline Curve (SDC) applies advanced computational algorithms coupled with data-driven methods to generate robust decline curves on a well-by-well basis for any given field or portfolio. Available as a SaaS solution.
Learn More

Accelerate Field Development Planning.
Get the most out of your wells and asset portfolio by detecting trends in production performance and identifying recovery obstacles, diagnosing the current state of a reservoir by rapidly processing and analyzing well and reservoir data. SpeedWise® Diagnostics was selected as a finalist for New Technology Development of the Year in the 2016 Texas Oil & Gas Awards.

Rapid and comprehensive ALS performance analytics.
SAL (pronounced "Sal") applies advanced analytics to artificial lift systems (ALS), identifying new solutions and opportunities for improving the operation and design. This technology builds from data-driven (and engineering-based) workflows that compute smart metrics and KPIs based on the historical performance of the artificial lift systems.

Multifaceted Forecasting with Fit-for-Purpose Modeling.
Reliable long-term production forecasting for different field development opportunities (FDOs) within the field development plan (FDP). Forecasts include: Pressure, saturation, oil rate, water rate, and gas rate prediction for a user-defined time interval in the future.
---
SpeedWise Galaxy creates magnitudes of value for E&P companies.
SpeedWise® Galaxy is a suite of AI-powered applications that is flexible, scalable and easily fits into an asset team's existing process, opening the door for better collaboration between domain experts, better integration of static and dynamic data, and paving the way for optimized field development plans through the application of Augmented AI.
---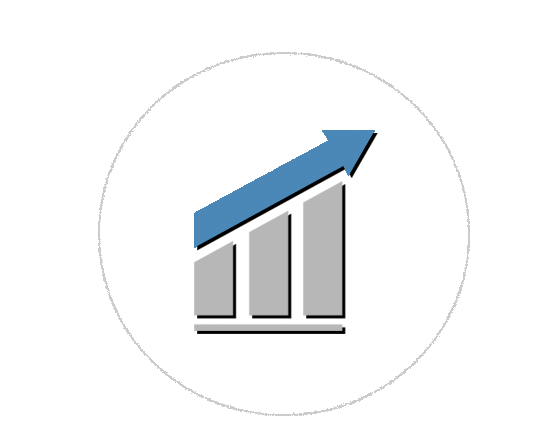 Value Creation
~20-50% OpEx/CapEx reduction. Battle tested and built for reservoir management and optimizing field development plans, gain superior results that lead to increases in production, reserves and capital efficiencies.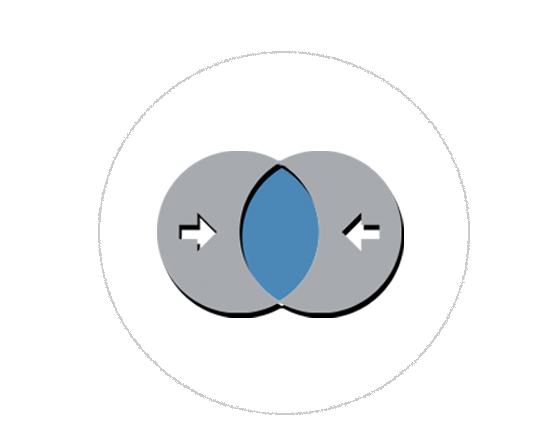 Integrated Platform
Create a data-centric organization using a secure cloud-native platform of solutions. Break down multi-disciplinary data silos and open up repeatable cross-functional workflows, accessible from anywhere, anytime.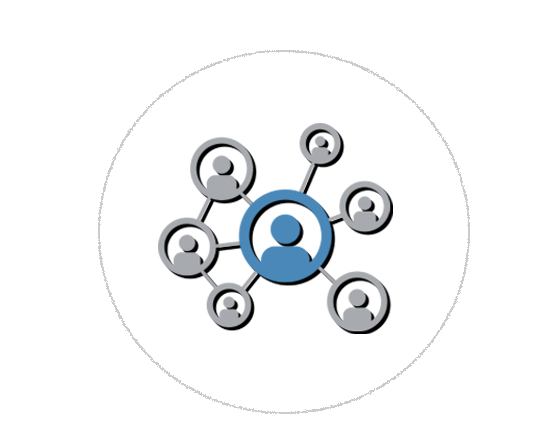 Collaborative Environment
Fully functional collaborative environment throughout the entire workflow allows for faster vetting of outcomes by domain experts. AI drives the quantitative analysis, and the platform empowers domain experts to review the analysis.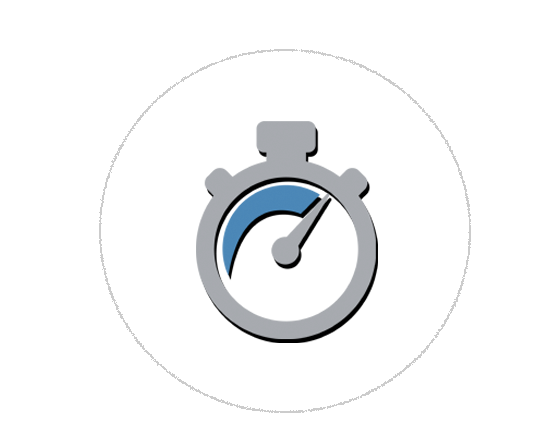 Lightning Fast Automation
90%+ reduction in the time spent to value creation, leading to business agility and cost-savings. Asset teams get from multi-disciplinary data to actionable solutions much faster. Understand complex data sets very rapidly and arrive at insights that are actionable.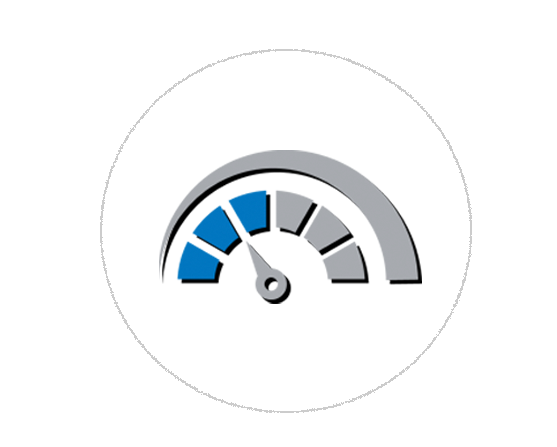 Optimal Risk Mitigation
Explore 100s of alternative scenarios by varying initial assumptions, and ultimately achieve accurate outcomes with confidence. Users gain deep insights to make high quality and impactful decisions, accelerating their digital transformation efforts.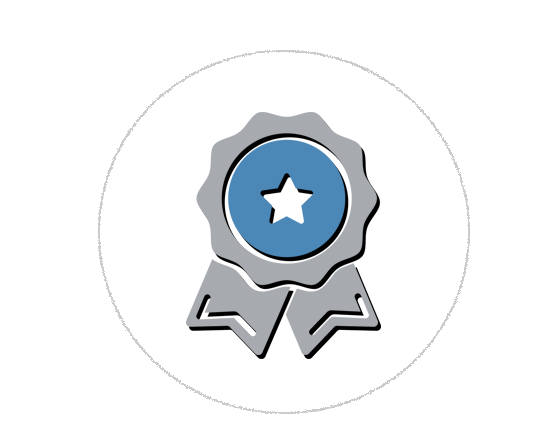 Best-in-Class Practices
Augmented AI paves the way for project managers and domain experts to adopt best-in-class reservoir management practices and subscribe solutions that drive peak and most sustainable performance of oil & gas assets.