A Message to our Valued Customers
A MESSAGE FROM THE CHAIRMAN • April 5, 2020
To All Our Valued Customers:
As we are going through a dark period with consequences yet unfolding, unknown, and difficult to fathom – a simple promise from QRI: You have our unconditional support and commitment to exceed your expectations.
Since March 24, 2020, QRI has transitioned to an offsite/online work environment globally. This is to assure the safety and wellbeing of all our employees, colleagues, and fellow citizens worldwide, while maintaining 100% business continuity and excellence. Our Houston headquarters at 909 Fannin is still open mainly to assure 24/7 cybersecurity and functionality of our global IT operations.
We have always been at our best in achieving and delivering results to you and will continue to do so through and beyond this complicated period. We know that neither the low crude prices nor the Coronavirus pandemic will last forever. A return to normalcy is inevitable. We feel privileged to serve you now and in the future.
Please accept, on behalf of everybody at QRI, my best wishes and conviction for better days ahead.
Yours sincerely,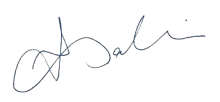 Dr. Nansen G. Saleri
Chairman & CEO

NGS/dac